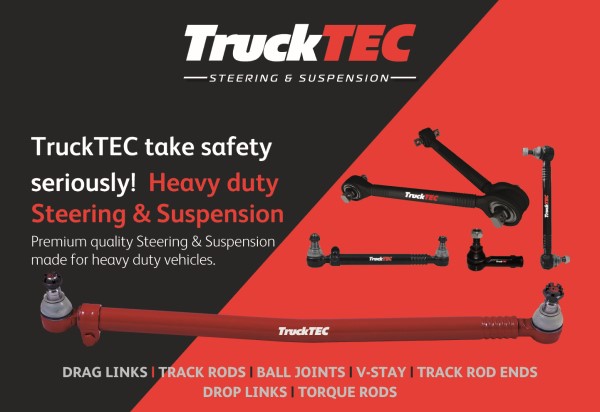 TruckTEC STEERING THE WAY IN CV AFTERMARKET COMPONENTS
---
05 Nov 2019
Category: OnRouteMag, On Route News
Building on the success of TruckTEC V-Stay range we are  taking steering to the next level.
The well-established TruckTEC brand continues to strengthen  the component portfolio with the announcement of a complete
steering and suspension component portfolio. The range  includes Drag Links, Track Rods, Ball Joints, V-Stay, Track Rod  Ends, Drop Links and Torque Rods for over 75% of the popular  commercial vehicle applications.
Improving vehicle performance
Every second a commercial vehicle is off the road it is draining  money, so it is important to prevent a failing component
than breakdown, wait for recovery and then replace the part.  Checking the vehicle before breaking down not only saves you  from an expensive bill but could save your live.
TruckTEC takes safety seriously which is why each component  is designed and manufactured to exacting OE specifications by  using the latest technology and techniques in re-engineering  and are produced with ISO 9001, ISO 2000, and ISO TS 16949  certification.
Dedicated to improving the technical performance of all  TruckTEC components and extending the life of parts whilst  keeping safety at the forefront ensuring that they meet the  rigorous requirements of today's commercial vehicle market. As  a result, our steering and suspension range is supplied with a  24-month, unlimited mileage warranty against manufacturing defects for total peace of mind.