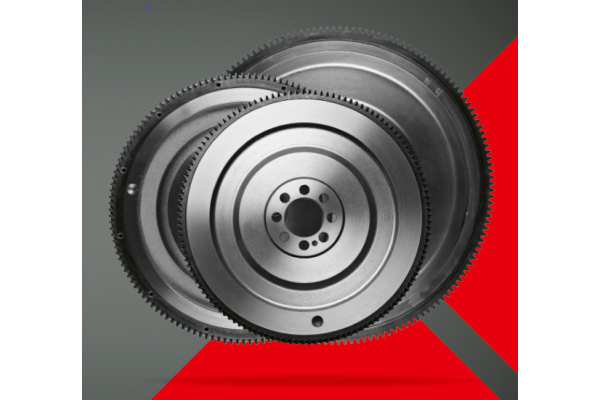 Smooth Transitions with febi Flywheels
---
31 Jul 2019
Category: OnRouteMag, On Route News
The Flywheel is a multi-purpose component that forms part of the clutch assembly but is also key to engine function. This is true both in passenger cars and commercial vehicles. With several key functions, the Flywheel must maintain reliable performance, and febi Truck offers a range of Flywheels to ensure this.
The Flywheel is attached to the engine. Its main function is to serve as the mounting surface of the clutch assembly and helps to dissipate heat from the clutch. It is the mounting place for the Clutch cover, with the friction plate sandwiched between them.
A ring gear is attached on the outer periphery of the Flywheel, and the pinion of the starter motor engages with this to rotate the engine during start-up. The Flywheel uses its weight to keep the engine rotating.
It is important to be aware of potential symptoms of wear with the Flywheel to avoid further issues which could take the vehicle off the road for longer periods. Oil or cracks on the Flywheel can prevent the correct level of friction building between the Flywheel and the Clutch plate, which can cause the clutch to slip. This reduces the transmission of power through to the gear train. If this occurs, it is recommended that the Flywheel is changed at the same time as the Clutch to reduce further damage and downtime to the vehicle. Signs of wear can also include loud rattling or squeaking noises when the Clutch pedal is pressed/depressed.
Flywheels should be checked for burns and discolouration of its contact surface. If needed, it is advised to clean the Flywheel with emery paper to enable the ability to check its runout.
febi Truck recommends that you check all connecting components within the Clutch assembly for any other signs of wear within the system.
febi Truck provides over 40  different Flywheels for the most popular commercial vehicle types. Each part supplied by febi is manufactured to meet or exceed OE specifications to maximise performance, high-quality and longevity.
febi also offers the necessary parts for fitting, including Flywheel bolts, shaft sea rings and suitable pilot bearings.
Why febi Flywheels?
Cost-effective
High-quality, rigorously tested parts
Improved driving comfort due to a quieter, smoother driving experience
Long service life
OE matching specifications
All febi parts are of OE matching quality, with the confidence of first time fit, every time.  With over 15,000 applications, febi's Truck Division offers an extensive range for the main European commercial vehicle manufacturers. From steering, engine, braking, chassis and wheel mounting technology to vehicle electrics and pneumatics, febi covers all areas of vehicle component replacement.
When you want to be sure of quality and fitment, choose febi.
The entire range can be found at www.trucks.febi-parts.com.
The febi product brand is part of the bilstein group, which also incorporates the strong SWAG and Blue Print brands. Further information can be found at www.bilsteingroup.com.