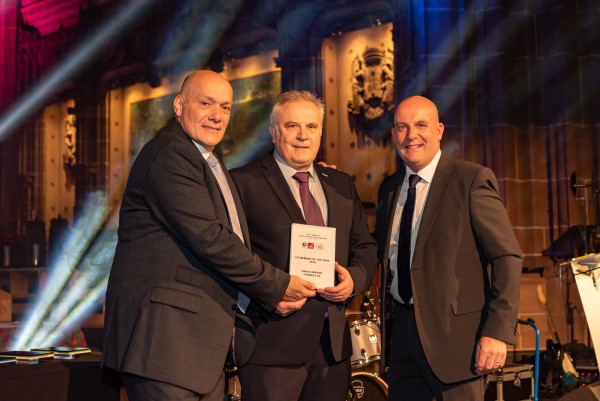 Partic – CV Member of the year for the 3rd year running
---
05 Nov 2019
Category: OnRouteMag, On Route News
East Midlands based Partic Motor Spares has celebrated 40 years in business this year as a leading supplier of commercial vehicle components in the UK.
40 years of success
"40 years is a fantastic achievement and something that we are extremely proud of," said Jack Beard, Operations Director at Partic Motor Spares. "The business has come a long way over the years and still remains a family-owned and run company. Employing over 80 members of staff, with a large percentage of them being with the company for many years. Jack commented; "The success would not have been possible without the hard work of our loyal and very committed staff."
With branches strategically located throughout the East Midlands, Partic Motor Spares holds service to its customers as a top priority and offers a first-class delivery service backed up by superb technical support, range and product availability.
Support of United Aftermarket Network
"The organisation's membership of the United Aftermarket Network (UAN) since 2008 as a major factor behind the business success. Our UAN membership has connected us with new and innovative suppliers and allowed us to improve our product availability as a result," said Jack. "We have always worked very closely with our suppliers but with the help of the UAN, we have advanced these even further."
In addition, Partic Motor Spares regularly receive both digital and print marketing materials from the UAN, which showcases new-to-range products and promotions. This essential insight into the latest and greatest that the commercial vehicle sector has to offer helps the team to offer the best advice and components to their customers.
"The increasing number of products and suppliers available through CV LOGIX has been very advantageous for us in terms of stock availability, in an ever-changing aftermarket industry," said Jack. "It has allowed us to develop and structure the way we purchase certain products, whilst maintaining a competitive service and price, which we can then pass onto our customers."
Jack and the team benefit from regular contact with the team at UAN and CV LOGIX.
"We work closely with Rod Edwards and Phil Dodd from the Alliance Automotive Group. We have quarterly meetings which are structured and very worthwhile. Regular contact is key for us and that is never a problem, as the UAN are easy to get a hold of. Our queries are always sorted out quickly and efficiently."
Acquisition of Advanced Trucks
Earlier this year Partic acquired Advance Truck Components increasing their branch outlets to 10 locations including Scunthorpe, Hull and Immingham. Jack Beard commented "Advance Truck were a family owned business with the same morals/ ethics as Partic and strategically & biologically suited our needs and aspirations. Like Partic, Advance have some very knowledgeable, dedicated and long serving staff who have been part of getting Advance to where it has got to today. With the added access to more and more products and brands through our supplier routes".
Trade Evening
Partic held a trade evening on Thursday 26th September for over 400 Partic customers and their families. Delegates enjoyed a hog roast and drinks throughout the evening. Supported by 50+ key suppliers including; Knorr Bremse, Wabco, Automint, J4 UK, Winnards, Fleetguard, Febi, Brigade, Guardian, Haldex, Bosch, Sachs and Top Truck to name a few. In addition, a dedicated garage equipment and tooling area to demonstrate to customers the wide range on offer from Partic.
Special offers and a selection of demo's were available to customers on the night along with a raffle held with 50+ prizes – First prize an iPad sponsored by UAN. A race car simulator competition featured and was by Ben Hamilton. Ben won a Samsung smart watch with a time of 97.74 Congrats to Ben. Partic sponsor two race truck teams 'Smith Trucksport' and 'Taylors Trucksport' both Ryan Smith and Mark Taylor were in attendance along with the race trucks for the evening.
Jack added "The evening was a huge success and thoroughly enjoyed by all involved.
It was a chance to showcase the products and services available through the Partic and Advance Truck Components network. We also wanted to thank all our loyal customers and was a great opportunity for them to enjoy the evening, meet staff and suppliers alike."
CV Member of the year 2019
For the 3rd successive year Partic Motor Spares has received the groups most prestigious award 'CV Member of the year' it's impressive to receive the award 2 years running but 3 years is a tremendous achievement.
We asked Jack what this meant to the business and the team at Partic, "It's a very competitive Commercial Vehicle market today and there has been a lot of change over the past year within the industry. It's a huge honour and the first time that this has been achieved three years in succession.  We work very closely with the UAN and thanks Phil, Rod and Maureen for their help. A big thank you to all our staff for their hard work, dedication and continued loyalty. A great achievement to mark our 40 years in business."
The future of Partic Motor Spares
After 40 successful years we ask Partic what the future holds for them. Jack commented; "We continue to examine further, potential avenues of organic growth and areas where we can enhance the service we provide to an ever-expanding client base. Our UAN membership will be a major driver of this. However, through all the developments in the business, our business model has never changed; service to our customers will always remain paramount."
For more information: www.particmotorspares.co.uk or www.cvdistributors.co.uk