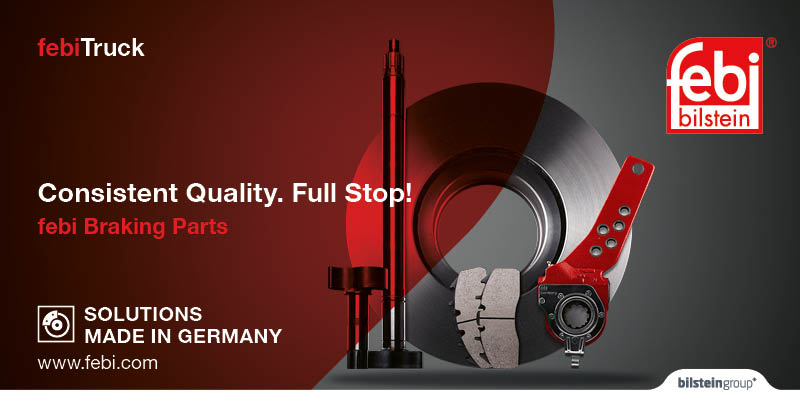 Consistent Quality. Full Stop!
---
11 Oct 2019
Category: OnRouteMag, On Route News
febi braking parts
When the brakes on a Truck are applied, air pressure is diverted to the braking units. These, in turn, apply pressure to the friction surfaces to create the braking action.  Due to the weight of the vehicle and the kinetic energy involved, high temperatures are produced.  When used over a prolonged period, brake fade causes the coefficient of friction of the braking material to reduce and potentially cause failure of the braking action.  To reduce the likelihood of this happening, braking manufacturers have to choose the materials used carefully, and operators must always change braking components in pairs.
When the braking system is used over a prolonged period of time and heat is generated, failure of the braking system can occur through brake fade. Only the perfect interplay between brake discs and brake pads allow optimum functioning braking. It is important that the brake pads fit the brake disc, where the best possible friction coefficient can be achieved.
Brake pads are subject to extremely high temperatures of up to 800֯; therefore, it is vital to replace these wear parts with high-quality replacements. Brake Pads from febi are rigorously tested by scorching processes after manufacture. Brake pads are baked at high temperatures to test for optimum performance and safety. febi will only provide brake pads that have undergone rigorous testing, to ensure maximum safety for the driver and others on the road.
Brake Discs for Trucks have to offer safety and reliability assurance as standard not only because of the size of the vehicle but because of the variety of heavy loads they carry. When it comes to brake discs, every inch counts. Brake Discs undergo a huge amount of strain by working with other braking components to bring the vehicle to a stop. It is vital that braking disc replacement is done so in pairs. This not only maximises safety but stays in line with commercial vehicle regulations.
febi brake discs are manufactured using high-quality materials to ensure optimum balance between performance, ride comfort, and a long life cycle for a variety of vehicle makes and models.
febi Truck provides not only standard braking parts such as Brake Discs and Pads but also other Braking Components such as S-Cams, Rollers and Brake Shoe Skeletons. febi Truck's Brake Shoe Skeletons are available in high-quality materials to be fitted to the required friction material. Each Roller manufactured by febi is case hardened to Original Equipment standards which ensure longevity of the lifetime of the braking unit. S-Cams transfer the Slack Adjuster movement to the Brake Shoe mechanism.
febi braking components  – advantages at a glance:
Use of OE matching friction materials – only the best materials are used in manufacturing processes.
Precision Fit – febi ensure a precision fit to OE backing plates to maximise safety and comfort for the driver.
Designed for a balance of performance, driving comfort and longevity.
Safety: Top braking performance, short braking distances. febi brake pads ensure short stopping distance by being high in quality and stringent on precision.
For this reason, febi provides an extensive range of paired braking components in OE matching quality for a variety of commercial vehicles. febi test their truck braking components not only through endurance testing but also through extreme test Truck racing. Because when it comes to an emergency stop, every inch counts.
With over 26,000 applications, febi's Truck Division offers a wide range for the European commercial vehicle manufacturers. From steering, engine, braking, chassis and wheel mounting technology to vehicle electrics and pneumatics, febi covers all areas of vehicle component replacement.
The febi product brand is part of the bilstein group, which also incorporates the strong SWAG and Blue Print brands. Further information can be found at www.bilsteingroup.com
Our Braking Components range can be found at partsfinder.bilsteingroup.com.
To be sure of quality and fitment, choose febi bilstein.