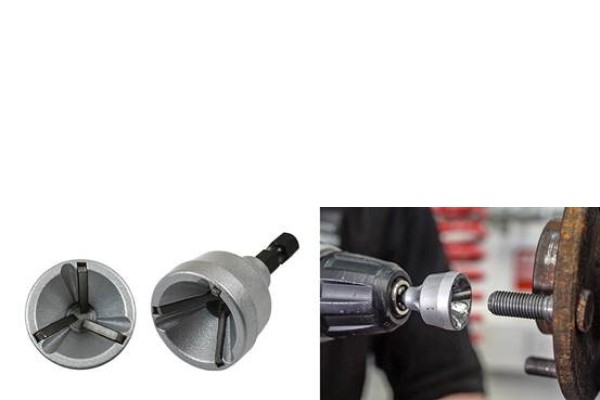 New external deburr & chamfer tool from Laser Tools is specifically designed to repair the edge of damaged bolts, studs and pipes.
---
25 Jun 2019
Category: Articles, Press Releases, Product News
In a busy workshop there are numerous instances of threads getting damaged: whacking a track rod end with a hammer; cutting a bolt or threaded rod; whacking a driveshaft out of a hub — the threaded ends get torn and squashed. Wheel studs: they get damaged just by removing and refitting the wheels… Luckily there is a quick and easy solution from Laser Tools: the external deburr & chamfer tool (part number 7510).
The chamfer tool is designed to be used with an electric drill and is fitted with a 1/4″ quick-chuck shaft, maximum recommended speed is 400rpm. The tool is fitted with three super-hard High Speed Steel blades that make light work of repairing damaged bolts and damaged threads. The blades cut quickly and cleanly and are effective on stainless steel, hardened steel, mild steel, copper, brass, wood, fibreglass, and even hard plastic. Bolts, studs and threaded rod, size range from 3mm right up to 19mm. Hammer-damage or squashed and flattened threads will stop the retaining nut or wheel nut screwing back on; a couple of zaps from the deburr/chamfer tool solves the problem instantly.
Cutting steel or copper pipe can leave an uneven edge that can stop an olive or tube nut being slid on. A gentle touch with the tool leaves a nicely chamfered edge, and the olive slides straight on.
The new Laser Tools external deburring & chamfer tool — available at your nearest Laser Tools stockist. The 7510 is typically priced at £25.92 (price includes VAT), but remember to check for the best prices and special offers.
See the 7510 deburr & chamfer tool in action on the Tool Connection YouTube channel: https://youtu.be/tzGwpkZ2zRU