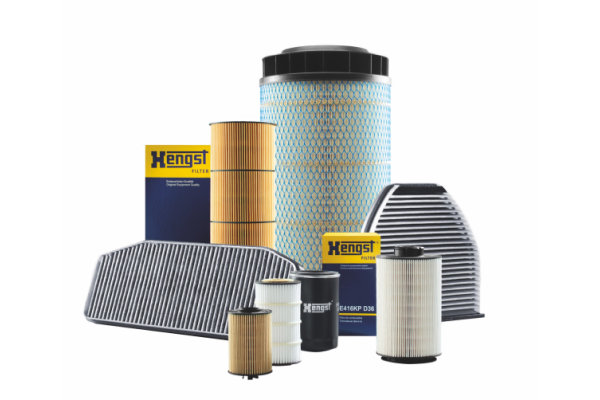 HELLA – the new distributor of Hengst CV filters
---
11 Oct 2019
Category: Articles, On Route News
New deal between the companies gives more CV filter distribution
Chipping Warden. September 2019. An agreement has been struck between HELLA and Hengst, to enable HELLA to add Hengst's commercial vehicle (CV) filters to its comprehensive product portfolio. Two years ago, an alliance was formed between the two companies to create HELLA Hengst, a unique brand for the passenger car and light commercial vehicle sectors. However, this new arrangement means that HELLA can now distribute a complete filter programme across the entire aftermarket.
The offering consists of more than 1,000 references across light commercial, truck, bus, agricultural and construction applications, all of which are Hengst original equipment (OE) quality and includes air, cabin air, fuel and oil filters, catering for an impressive percentage of the vehicle parc.
Along with this compelling programme, customers will also benefit from HELLA's renowned distribution capabilities, backed up with excellent customer service and dependable availability.
HELLA will be distributing Hengst CV filters as of October 2019.
Senior Head of Marketing and Communcations at HELLA, Helen Goldingay, said: "We're very excited to form this new business arrangement with Hengst; our alliance with the HELLA Hengst range has proved such a success in the UK & Ireland aftermarket and we're sure it will continue as we begin distributing Hengst CV filters."
For more information about the CV range, visit here: https://www.hella.com/techworld/uk/Car-parts/Filters/CV-Filters-54714/ or contact our sales team on 01295 662400 or email [email protected]
HELLA GmbH & Co. KGaA, Lippstadt: HELLA is a global, family-owned company, listed on the stock exchange, with over 125 locations in some 35 countries. With sales of € 7.0 billion in the fiscal year 2018/2019 and 39,000 employees, HELLA is one of the leading automotive suppliers. HELLA specializes in innovative lighting systems and vehicle electronics and has been an important partner to the automotive industry and aftermarket for more than a century. Furthermore, in its Special Applications segment, HELLA develops, manufactures and sells lighting and electronic products for specialist vehicles.