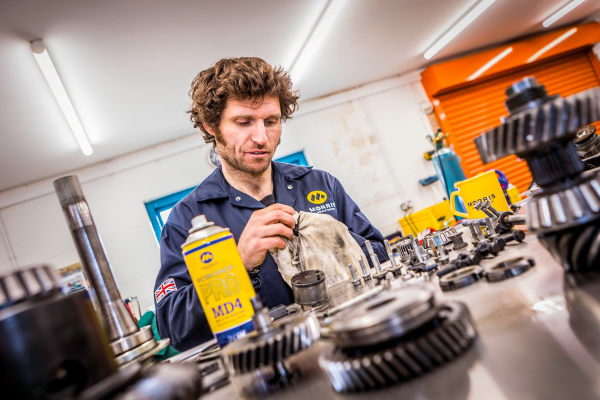 Guy Martin to open Automechanika Birmingham's Big Garage Event
---
20 May 2019
Category: Articles, Press Releases
The Morris Lubricants ambassador will play a big part in the company's presentation at this year's industry show
Morris Lubricants brand ambassador, television personality and truck mechanic Guy Martin will open the Automechanika Birmingham Big Garage Event on the 4th June.
Taking time out from his busy schedule, Guy will be present on the Morris Lubricants stand (K110) throughout the day and will also be taking part in a live Q&A session with the company's renowned expert on all things lubricating, Adrian Hill, from 13.45 to 14.15.
Growing awareness
Morris Lubricants has a special appeal for Guy, as a British-based independent manufacturer of oils and lubricants, the company seems a natural fit for the personality. "I like the fact they're British, have a range of everything you could need and are good honest folk," he says. "They sent me a load of samples, and I didn't know how many products they had and it's all good stuff. Whether it's on the trucks, cars or bikes, even my tractor, the quality is spot on."
In his role as a brand ambassador, Guy has spent time at Morris Lubricants' facilities in Shrewsbury, where the company produces its multitude of products beneath its landmark clock tower. "Originally, I just thought it was a few blokes in a shed in Shrewsbury, but to come here and see what goes into the blending and testing the oils is amazing," he mentioned during his tour last year. "I'd underestimated the whole Morris operation, but it's now an honour to be part of it."
The appreciation flows both ways in the partnership. "Having Guy as an ambassador for the company is great as he is not only a highly skilled engineer, but he also has good knowledge and experience using the products," comments Morris Lubricants Marketing Executive Andrew Simms. "He is also a thoroughly honest bloke, who says it as he sees it."
The right Guy
In his role as a brand ambassador for Morris Lubricants, Guy can often be seen promoting the company's extensive range of automotive products for the motorcycle, car and truck markets. However, while significant, this is just a tiny part of his incredible journey. One minute he may be under a truck, but the next he could be racing around a road circuit on a superbike, or taking part in another incredible television challenge.
Yet beneath all this fame is a humble Lincolnshire lad who remains down-to-earth, and always insists that despite the adventures and recognition, he will never give up his day job, getting covered in grease and fixing the multitude of trucks that come his way. It is this endearing nature that has won a legion of fans around the world.
Morris on display
The Shrewsbury based company is celebrating its 150th anniversary this year, and its stand at Automechanika Birmingham will reflect this, while also looking to the future. Morris Lubricants will be showcasing its latest technology automotive lubricants, including the Multivis engine oil range, while also inviting visitors to take a step into augmented reality and journey through an engine with the Morris AR app.
Morris Lubricants will have technical experts on hand to answer questions about the latest OEM approvals, specifications and emerging lubricant technologies, while commercial and sales teams will be able to discuss everything from bulk delivery to storage options.
And of course, Guy will be taking part in a live Q&A session on 4th June, a perfect opportunity to find out more about him, his work with Morris Lubricants, and perhaps even how to make the perfect cup of tea…
Morris Lubricants can be found on stand K110 at Automechanika Birmingham, taking place from 4-6 June at the National Exhibition Centre in Birmingham.