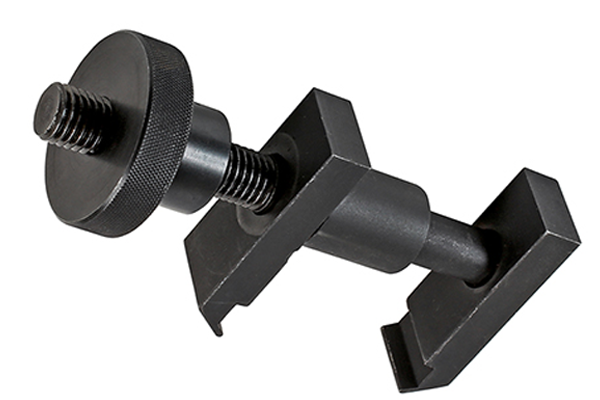 Laser Tools stock new split gear alignment tool.
---
13 Sep 2018
Category: Articles, Product News
Split Gear Alignment Tool from Laser Tools fits modern Vauxhall 1.3 CD and BMW/Mini B37 engines
Modern engines that use gear drives to drive their camshafts, balance shaft etc. often have a spring-loaded split gear in the gear train. These split gears are used to reduce gear chatter and noise. However, when it comes to service and repair these split gears can often make disassembly and assembly of the drive train difficult. This tool (part number 7067) is designed to fit a range of Vauxhall and BMW engines, and clamps onto the gear, holding the two gear halves in alignment, so making assembly and disassembly easier.
Designed and manufactured by Laser Tools at their Sheffield facility, the specific applications include the Vauxhall/Opel Corsa E, fitted with the 1.3 Diesel from 2015, with engine codes: LKU/B13DTE, LKU/B13DTR and LKV/B13DTC.
The BMW applications are the 1.5 Diesel 1-Series from 2015, 2-Series from 2014, X1 from 2015 and BMW Mini One from 2014 (engine codes B37 C15A and B37 D15A). The OEM equivalent tools are Vauxhall/Opel EN-50509 and BMW/BMW Mini 11 5 370.
You can trust Laser Tools to keep up to date with these specialist engine tools and the 7067 split gear alignment tool is designed for use with the 7066 Engine Timing Kit (Vauxhall) and 6997 Timing Chain Tool Kit (BMW / Mini). For these BMW and Mini engines a Balancer Shaft Removal & Alignment Kit is also available (part number 7253), and a Crankshaft Turning/Holding kit (part number 7300).
Professional equipment for the professional workshop and available now from your Laser Tools stockist. The 7067 split gear alignment tool is typically priced at £146.30 (price includes VAT). Current prices for the other kits are available at www.lasertools.co.uk but always remember to check with your Laser Tools supplier for the best prices and special offers.