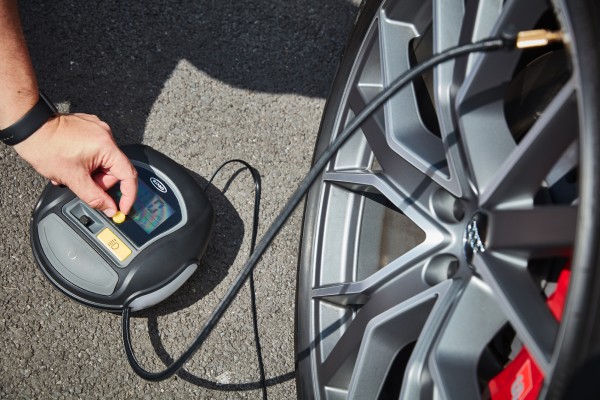 Check your tyres before your summer trip
---
24 Jul 2019
Category: Articles, Press Releases
Check your tyres before your summer trips is the message from TyreSafe and Ring, the leading tyre inflator brand in the UK, to help you stay safe, cut your fuel bills and cut your emissions this summer.
More and more Brits are deciding to stay in the UK for their holidays, with as many as 66% of the British public enjoying a staycation in 2018. However, with so many set to stay put – and a large proportion planning to drive to their summer destination – it's essential to carry out some basic tyre checks before travelling.
There and two key things to check before you travel:
Tyre pressure. Under- or over- inflated tyres can increase stopping distance, weaken the tyre and reduce the surface area between the tyre and road – leading to an uncomfortable and less safe drive. Remember: if your car is more heavily loaded than usual, you need to change the pressure to compensate for the extra weight.
Tyre tread. The legal limit for tyre tread is 1.6mm throughout a continuous band in the central section of the tread around the entire tyre. However, once your tyre tread dips below 3mm it can significantly reduce your stopping distance. You can face a fine of up to £2,500 per tyre and penalty points if your tyres are below the legal limit.
Tyre checks matter
40% of road traffic accidents caused by vehicle defects are tyre related, and 27% of vehicles on Britain's roads have at least one illegal tyre – that's around 10 million vehicles. With one third of all tyre-related incidents occurring in the summer months, it's critical to ensure that motorists are checking their tyres well before they are due to set off.
Lizzy Sebine, Tyre Care Product Manager at Ring, says, "It's really simple to check your tyre pressure and tread, and it'll make a big difference for your holiday. Handling, braking and accelerating are all affected by incorrect tyre pressure and tread depth. We want to make sure motorists understand that by not carrying out basic tyre checks and maintenance, they are putting their safety at risk, as well as increasing their fuel costs and carbon emissions".
As well as improving safety, correctly inflated tyres will cut fuel spend and carbon emissions, as this helps the vehicle to run more efficiently. With 20% of Brits wanting to have a more sustainable holiday in 2019, it is a simple step for drivers to take to help reduce their impact on the environment.
Stuart Jackson, Chairman, TyreSafe says, "More tyre-related incidents happen on Britain's roads during the summer months than at any other time of year. To keep your risks to a minimum, it's essential to ensure you've checked your tyres before you set off. With so many more people choosing to stay in the UK for their holiday, it's more important than ever that motorists are carrying out these maintenance checks. Before you set off, remember to ACT: Air Pressure, Condition and Tread depth to minimise the risks of an incident on the roads."
For more information on how to check tyre inflation and pressure, visit www.tyresafe.com, or to find out more about a portable tyre inflator, visit ringautomotive.com. Ring's extensive range of portable tyre inflators makes it easy to manage tyre pressure – whatever the vehicle.