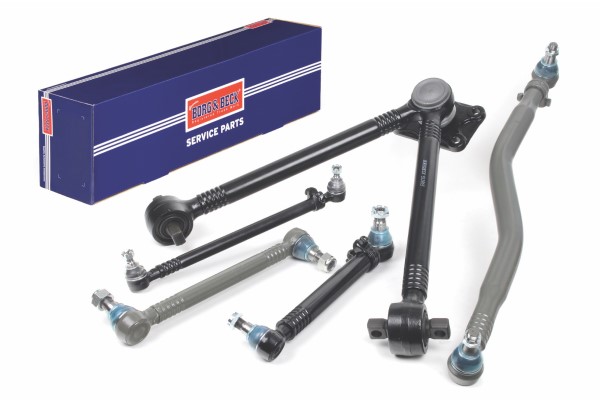 BORG & BECK CV STEERING & SUSPENSION
---
31 Jul 2019
Category: OnRouteMag, On Route News
New additions further enhance the range
First Line Ltd is a highly regarded supplier of premium quality aftermarket components and the owner of the globally recognised Borg & Beck brand. Alongside its well established passenger car range, the company also has a growing reputation for its commercial vehicle (CV) programme, which is further strengthened with the announcement of the addition of more than 150 new to range (NTR) steering & suspension components being introduced this year.
Launched in 2015, the CV range has experienced considerable year-on-year sales growth, culminating in a particularly successful 2018. The launch of these new part numbers will ensure this upward trend continues and its customers have access to the parts they need to compete in an increasing and diverse market.
The first instalment of these NTR additions are now in stock and available to order, comprising of anti-roll bar bushes, centre rods, tie rods, tie rod ends and torque rods, which along with the existing products in the range, cater for many popular applications.
Naturally, as would be expected from such a renowned brand, these new Borg & Beck products are produced to OE specification by the company's manufacturing partners, who operate under ISO9001 and TS16949 certification.
As well as being branded and batch-coded for full traceability and subjected to First Line Ltd's extensive testing and approval processes, all the steering & suspension parts are fully E-coated. This procedure delivers several key advantages, starting with its exceptional corrosion resistance in all weather conditions and a high resistance to stone chips and other road debris. It also provides protection from chemical degeneration such as oil/brake fluid, affords a uniform covering across the entire surface of the product and is environmentally friendly.
Development and production parts are routinely tested above and beyond the specifications of the OE component, going through more than 18 different assessment types, including metallurgical analysis, dynamic load, destructive fatigue and product specific tests, such as ball pin pull load and radial movement measurement. Borg and Beck suspension parts also feature forged ball pins on torque rods and V-stay bars to ensure increased longevity versus the cast parts which are common in the marketplace. As a result, all Borg & Beck CV components are supplied with a 24-month, unlimited mileage warranty against manufacturing defects for total peace of mind.
For more information about the premium quality CV products available from Borg & Beck, please call the sales team on: 01869 248484 or visit: www.borgandbeck.com/cv