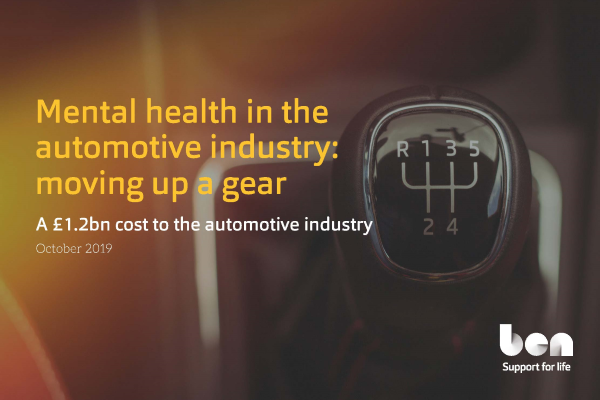 Ben's new whitepaper reveals that mental health could cost automotive industry employers up to £1.2bn a year
---
10 Oct 2019
Category: Articles, Press Releases
A whitepaper released today by automotive charity, Ben, has found that mental health is still one of the biggest issues affecting the industry's workforce and could cost employers as much as £1.2bn a year[1] collectively. Ben's new whitepaper called Mental health in the automotive industry: moving up a gear examines evidence and provides practical solutions for employers on how to support the mental health of their workforce.
Today, on World Mental Health Day, Ben seeks to make automotive industry employers aware of the stigma still attached to mental health issues and builds a clear case for businesses to take action in support of their employees. As part of this, Ben wants to work in partnership with automotive industry employers, through its Ben4Business programme, to make a positive difference to the mental health of those who work in the automotive industry.
The paper highlights that, when it comes to workplace issues, the mental health of employees can still be a taboo subject.
The focus of today's World Mental Health Day is on suicide prevention. Suicide is the leading cause of death among men under 45[2]. Ben's recently launched Critical Response Service has seen the organisation predominantly supporting employers and employees after a colleague has taken their own life which is a stark reality and should be considered as a call to action. Whilst the industry's aim is to increase the number of women employed, it is still predominantly made up of men.
Read the white paper
Click here to download Mental health in the automotive industry: moving up a gear
Rachel Clift, Health & Wellbeing Director at Ben, said: "To coincide with World Mental Health Day, we wanted to shine a spotlight on mental health in the workplace. Through starting and continuing the conversation, we can not only make a positive difference to peoples' lives but more importantly save lives too.
"Our free, confidential support is readily available to anyone who works (or has worked) in the industry – from the assembly line to the boardroom. Whatever an individual is dealing with, no matter how big or impossible it seems, Ben is here. Employers can also refer an employee who is in need of support to Ben via a fast-track employee referral process.
"We have put our learnings into action by partnering with automotive employers to support their people through relevant training and workplace initiatives. I urge employers to read Mental health in the automotive industry: moving up a gear as it offers great insights into the mental health of the automotive industry. It's insightful but it's also a great resource to help employers support their workforce  and promote positive mental health in their workplace.
"We're here to look after the health and wellbeing of automotive people because they are the lifeblood of our industry."
Talking about Ben's mental health training, Anna Hatton, Wellbeing Manager at Jaguar Land Rover, said: "We've been working closely with Ben to provide mental health awareness training for all of our employees with line management responsibilities. We felt it was important to train our line managers so they could fully develop their skills in supporting colleagues with their mental health. So far, Ben has trained over 800 of our managers, and this number is growing all the time.
"The training has gone down extremely well with our managers and they have given us fantastic feedback, saying they have found it incredibly useful. Some have even said it's the best course they have ever been on! They tell us that the course has really helped build their confidence in approaching and supporting employees they are concerned about."
Ben's new whitepaper draws on findings from many sources, including Ben's own survey that asked hundreds of employees from the industry, including CEOs & HR professionals, to identify key health and wellbeing issues affecting them. In 2018, 52% of requests for help from Ben's helpline related to mental health issues, including anxiety and depression, a 23% increase on the previous year. The evidence in the report paints a picture of an industry that is still struggling with mental health issues.
Are you an employer who is ready to support the mental health of your employees? Then contact Ben via www.ben.org.uk/ben4business.
[1] Deloitte Mental Health and wellbeing in employment 2017