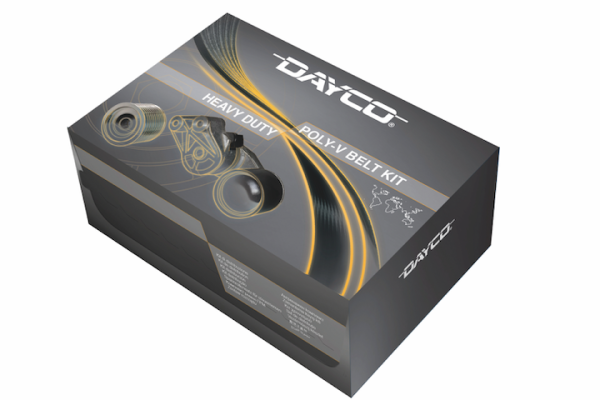 AUXILIARY SOLUTIONS FOR VOLVO APPLICATIONS
---
11 Oct 2019
Category: Articles, On Route News
Dayco, a leading engine products and drive systems supplier for the automotive, industrial and aftermarket industries, is a major player in the heavy duty sector, where it supplies important original equipment (OE) components, such as tensioners, idlers and belts, to HD vehicle manufacturers across Europe and around the world.
The company's engineering specialism provides Dayco with the expertise required to design and manufacture drive system related components, whether for OE or aftermarket, that best suit the needs of the application. As a result, its recently introduced auxiliary belt kits for the popular Volvo FH and FM Series commercial vehicles, contain all the necessary components to ensure technicians are able to make a full and thorough front end auxiliary drive (FEAD) system replacement, making service and repair work easier for both the wholesaler and workshop.
In addition, Dayco is also simplifying life for wholesalers and negating the need for them to undertake an additional search to identify and source the corresponding tensioner, and sometimes idler, to accompany the appropriate auxiliary belt.
The Volvo FH Series was originally introduced in 1993 in 12 and 14-litre variants, but has proved so successful that following a significant upgrade in 2012, is still on sale today. For applications from 2005 onwards, Dayco has produced four kits that incorporate two auxiliary belts – one with eight grooves and the other with 10 – with their accompanying tensioner, plus a grooved idler, although the later versions from 2012 onwards, dispensed with the use of an idler.
When it comes to the FM Series, which was launched in 1998 and ungraded in 2013 with Euro VI compliant power units, the Dayco range extends to six kits with applications from 1998 onwards. Three of these – two of which cater for the original versions from 1998 – contain a single belt and tensioner combination, a further two encompass a belt, tensioner and grooved idler, while the final kit, for variants including the FMX Series from 2010 onwards, comprises two belts, two tensioners and a grooved idler.
"The idea behind combined auxiliary belt kits," explains Dayco UK's National Sales manager, Steve Carolan, "is to assist wholesalers and workshops respectively to identify the correct combination of FEAD components required and provide a single package that contains all the necessary OE quality parts to carry out the replacement process.
"Another advantage is that it also allows us to provide wholesalers with a relatively small number of references that cover a large number of applications, which helps them cater for the most popular enquiries they receive from their customers, with the minimum stock commitment."
For more information regarding the OEM quality power transmission products in the Dayco range, please email: [email protected] or visit: www.dayco.com